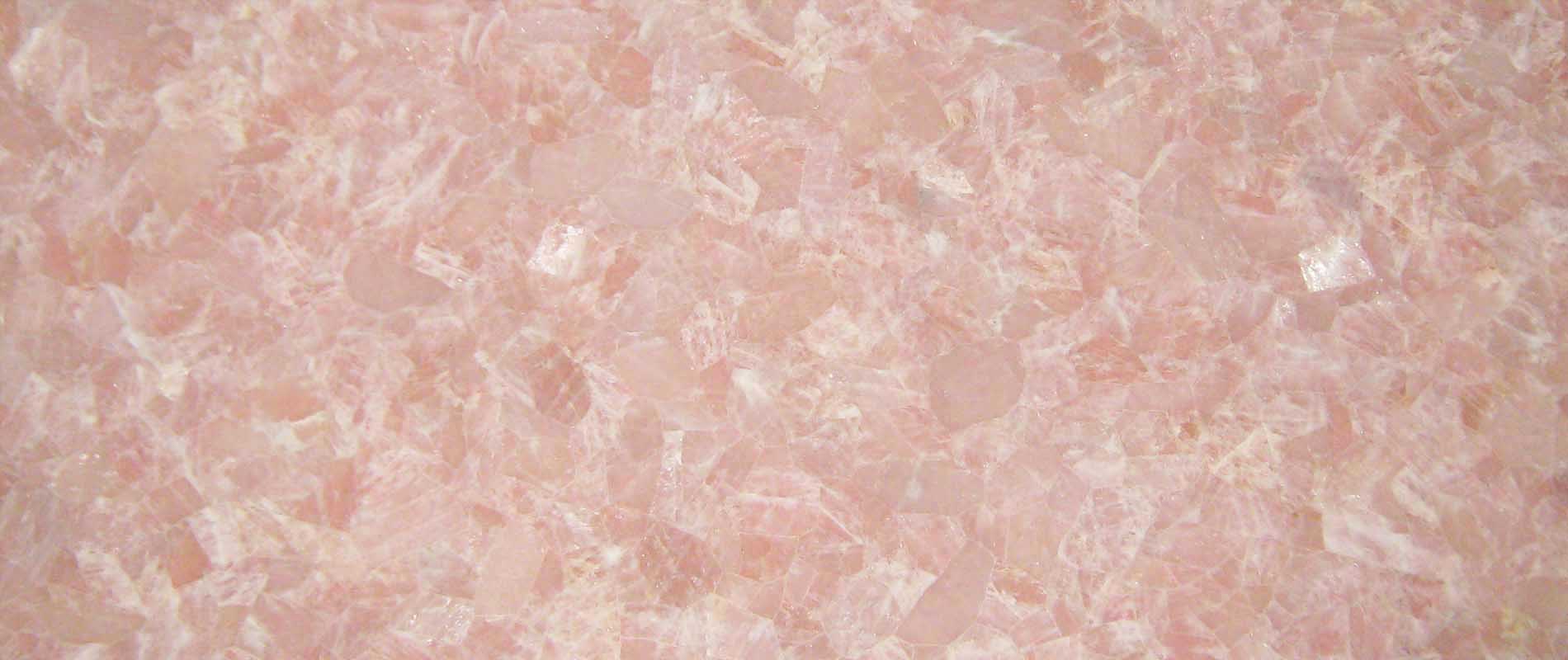 The Stone of Love
It has been celebrated since the dawn of civilization and is commonly referred to as "The Stone Of Love".
Enhance your space with the harmony of Rose Quartz.
Stunning in both unlit and backlit installations.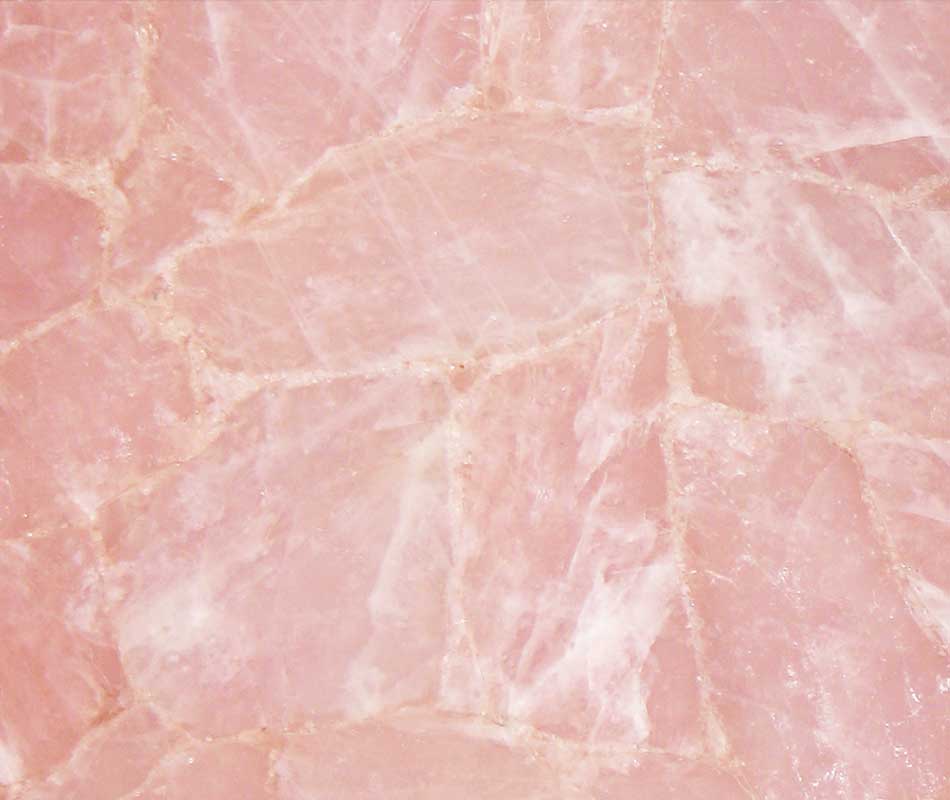 REGULAR VIEW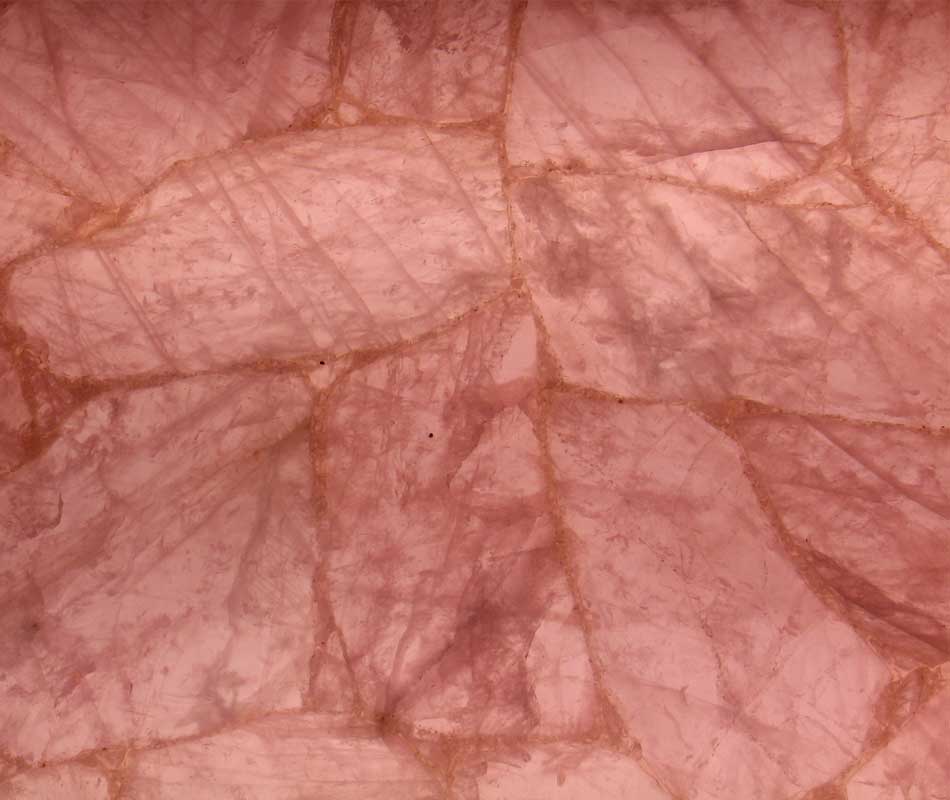 BACKLIT VIEW
Hypnotic Glowing Effect
Backlit Rose Quartz creates hypnotic glowing effect.

Rose Quartz Gem Surface is AVAILABLE.


OR SEE ALSO...
DIMENSIONS OF SLAB & TABLETOP (1/3 Slab)
| | |
| --- | --- |
| Full Slab: | 240cm x 140cm |
| | 98.43" x 55.12" |
| 1/3 Slab: | 140cm x 80cm |
| | 55.12" x 31.49" |
| Thickness: | 1.5cm or 2cm or 2.5cm or 3cm |
| | 0.5" or 0.7" or 0.9" or 1.1" | TRANSLUCENT BACKING
GRANITE BACKING
ALUMINIUM BACKING
SOLID SLAB
OPTION
OPTION 2
STANDARD
OPTION
STANDARD
 
SOLID 20mm
SOLID 30mm
GEM LAYER (mm)
5
5
10
5
10
5
10
20
20-30
BACKING LAYER (mm)
10
15
10
20
20
10
10
THICKNESS (mm)
15
20
20
25
30
15
20
20
30
LENGTH (mm)
1400
1400
1400
1400
1400
1400
1400
1400
1400
WIDTH (mm)
2500
2500
2500
2500
2500
2500
2500
2500
2500
SQUARE METER PER SLAB (m²)
3.50
3.50
3.50
3.50
3.50
3.50
3.50
3.50
3.50
   
GEM LAYER (inches)
0.20
0.20
0.39
0.20
0.39
0.20
0.39
0.79
1.18
BACKING LAYER (inches)
0.39
0.59
0.39
0.79
0.79
0.39
0.39
THICKNESS (inches)
0.59
0.79
0.79
0.98
1.18
0.59
0.79
0.79
1.18
LENGTH (inches)
55.12
55.12
55.12
55.12
55.12
55.12
55.12
55.12
55.12
WIDTH (inches)
98.43
98.43
98.43
98.43
98.43
98.43
98.43
98.43
98.43
SQUARE FEET PER SLAB (ft²)
37.70
37.70
37.70
37.70
37.70
37.70
37.70
37.70
37.66
THICKNESS OF LAYERS

TRANSLUCENT BACKING THICKNESS

GRANITE BACKING THICKNESS

ALIMINIUM BACKING THICKNESS

SOLID SLAB THICKNESS


CLOSE DIMENSION DETAILS -


DIMENSIONS OF GEMSTONE TILES
50 x 50 cm (19.68" x 19.68")
40 x 40cm (15.74" x 15.74")

30 x 30cm (11.81" x 11.81")
10 x 10cm (4.54" x 4.54")
FINISHES & MAINTENANCE
Polished on the top and edges. Handmade in Madagascar.
No special maintenance required. Preferably, use warm water and mild detergent on an uncolored soft cloth for cleaning. Sealer products and wax can be used like usual process applied on other marbles and granites.
Do not use strong chemical products with high Ph. Avoid to put hot materials directly on the Gem Surfaces®. Avoid to scratch the surfaces with metal or abrasive materials.
EDGING OPTIONS

BEVEL

BEVEL TOP & BOTTOM

HALF BULLNOSE

BULLNOSE

EASED

EASED TOP & BOTTOM

MITERED

OGEE
More about Rose Quartz
Rose Quartz is one of the most prized stones for its mystical properties. It has been celebrated since the dawn of civilization and is commonly referred to as "The Stone Of Love".
Rose Quartz from Madagascar is known for its beautiful gemmy red colors along with its translucency.
Our Rose Quartz Surface is designed in a way that allows light to be transmitted through the surface creating a hypnotic glowing effect. Our artisans go the extra mile - carefully designing the mosaic to match the shades of pink, which creates the most amazing surface available to man. Ideal for feminine vanities, or anyplace that requires some extra love.
Metaphysical Guide of Rose Quartz
Astrological sign(s): Libra, Taurus
Primary Chakra: Heart, Higher Heart
Vibration: Number 7

Rose Quartz is the stone of unconditional love. One of the most important stones for Heart Chakra work, Rose Quartz opens the heart to all types of love - love of self, love of family, love of friends, romantic love. Because it is a type of quartz, Rose Quartz does have a high energy, but its vibe is also calming and soothing.
Rose Quartz opens the heart to compassion for self and for others, and raises self-esteem. Rose Quartz eases guilt and balances emotions, lowering stress and bringing peace. Use Rose Quartz to enhance positive self-affirmations.
The soothing energy of Rose Quartz fosters empathy, reconciliation, and forgiveness of others. Lowering stress and tension in the heart, Rose Quartz clears out anger, jealousy, and resentment of others, and allows healing of heart issues and dis-ease associated with holding on to such negative emotions.
Known as a romance stone, Rose Quartz can be used to attract love. Put a piece of Rose Quartz by your bedside table, or in the relationship corner of a room or home to attract new love or to add trust and re-commitment to existing relationships. Rose Quartz adds loving energy to relationships, bringing calm and peace. The comforting and soothing energy of Rose Quartz can also help heal a broken heart, allowing release of pent-up emotions and grief. Rose Quartz also helps release unexpressed feelings about others.
Rose Quartz allows the user to open to and accept love from others, and to recognize the unconditional love of the Universe. Use Rose Quartz to bring calm and harmony during times of increased stress or crisis. Rose Quartz may also be used to balance all of the chakras and to remove negative energy and replace it with love energy.
HealingCrystals.com

This is just a guide and not a substitute for any medical prescription.
Physical properties of Rose Quartz
Stone Type/Family: Member of the Quartz family
Chemical Composition: (SiO2) Silicon Dioxide with iron and titanium inclusions
Crystal System: Triclinic-Crystal-System
Mohs scale hardness: 7
Color: Palest of pinks to deep lavenders and orchids
Location: Brazil, India, Madagascar, South Africa, US
Rarity: Common
Fun Fact: Rose quartz was once believed to be only found in massive form. The lack of finding Rose Quartz crystals was a curiosity because quartz crystallizes into well-formed crystals in all its other macroscopic varieties. Rose Quartz crystals are much more rare. So amazing are these Rose Quartz crystals that the first ones discovered were dismissed as fakes by mineralogists from around the world.