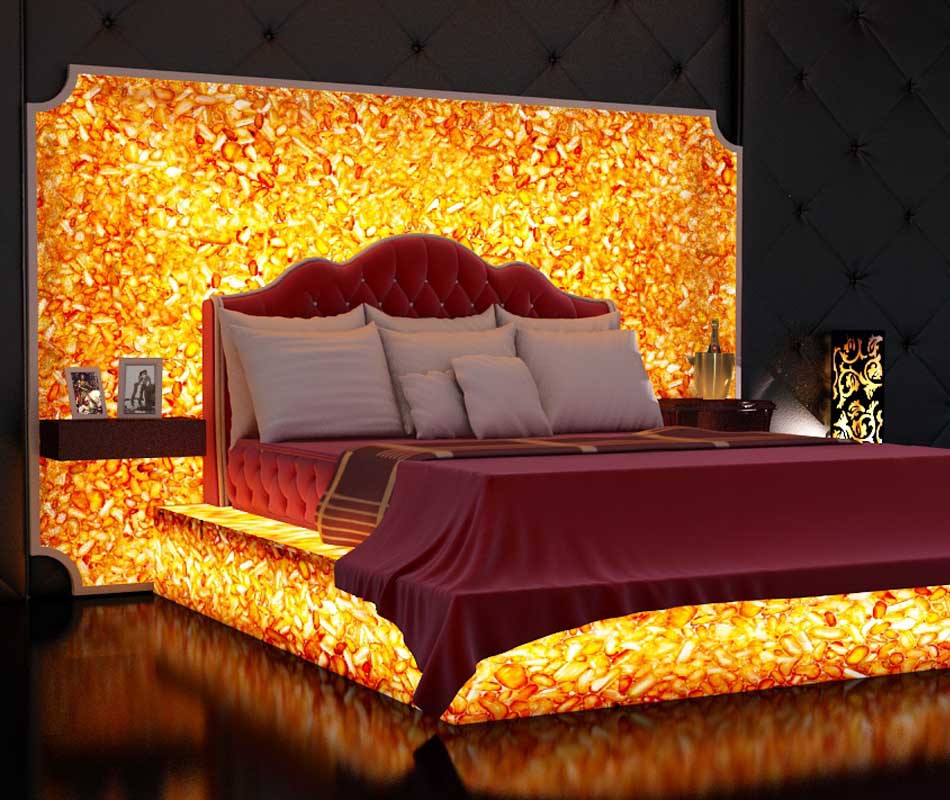 BACKLIT CARNELIAN

Carnelian Gem Surface is AVAILABLE.


OR SEE ALSO...
DIMENSIONS OF SLAB & TABLETOP (1/3 Slab)
| | |
| --- | --- |
| Full Slab: | 240cm x 140cm |
| | 98.43" x 55.12" |
| 1/3 Slab: | 140cm x 80cm |
| | 55.12" x 31.49" |
| Thickness: | 1.5cm or 2cm or 2.5cm or 3cm |
| | 0.5" or 0.7" or 0.9" or 1.1" | TRANSLUCENT BACKING
GRANITE BACKING
ALUMINIUM BACKING
SOLID SLAB
OPTION
OPTION 2
STANDARD
OPTION
STANDARD
 
SOLID 20mm
SOLID 30mm
GEM LAYER (mm)
5
5
10
5
10
5
10
20
20-30
BACKING LAYER (mm)
10
15
10
20
20
10
10
THICKNESS (mm)
15
20
20
25
30
15
20
20
30
LENGTH (mm)
1400
1400
1400
1400
1400
1400
1400
1400
1400
WIDTH (mm)
2500
2500
2500
2500
2500
2500
2500
2500
2500
SQUARE METER PER SLAB (m²)
3.50
3.50
3.50
3.50
3.50
3.50
3.50
3.50
3.50
   
GEM LAYER (inches)
0.20
0.20
0.39
0.20
0.39
0.20
0.39
0.79
1.18
BACKING LAYER (inches)
0.39
0.59
0.39
0.79
0.79
0.39
0.39
THICKNESS (inches)
0.59
0.79
0.79
0.98
1.18
0.59
0.79
0.79
1.18
LENGTH (inches)
55.12
55.12
55.12
55.12
55.12
55.12
55.12
55.12
55.12
WIDTH (inches)
98.43
98.43
98.43
98.43
98.43
98.43
98.43
98.43
98.43
SQUARE FEET PER SLAB (ft²)
37.70
37.70
37.70
37.70
37.70
37.70
37.70
37.70
37.66
THICKNESS OF LAYERS

TRANSLUCENT BACKING THICKNESS

GRANITE BACKING THICKNESS
ALIMINIUM BACKING THICKNESS

SOLID SLAB THICKNESS


CLOSE DIMENSION DETAILS -


DIMENSIONS OF GEMSTONE TILES
50 x 50 cm (19.68" x 19.68")
40 x 40cm (15.74" x 15.74")

30 x 30cm (11.81" x 11.81")
10 x 10cm (4.54" x 4.54")
FINISHES & MAINTENANCE
Polished on the top and edges. Handmade in Madagascar.
No special maintenance required. Preferably, use warm water and mild detergent on an uncolored soft cloth for cleaning. Sealer products and wax can be used like usual process applied on other marbles and granites.
Do not use strong chemical products with high Ph. Avoid to put hot materials directly on the Gem Surfaces®. Avoid to scratch the surfaces with metal or abrasive materials.
EDGING OPTIONS

BEVEL

BEVEL TOP & BOTTOM

HALF BULLNOSE

BULLNOSE

EASED

EASED TOP & BOTTOM

MITERED

OGEE
More about Carnelian
Carnelian is orangy-red chalcedony. This Gem Surface was one of the first jewels to be used in ancient civilizations. Ancient Egyptian tombs are covered in of examples of Carnelian jewellery, due to their belief in the stone's power in the afterlife. Our carnelian is collected by hand, in primeval riverbeds. This surface is ideal for the light-though-surface effect.
Carnelian (also spelled cornelian) is a reddish-brown mineral which is commonly used as a semi-precious gemstone. Similar to carnelian is sard, which is generally harder and darker. (The difference is not rigidly defined, and the two names are often used interchangeably). Both carnelian and sard are varieties of the silica mineral chalcedony colored by impurities of iron oxide. The color can vary greatly, ranging from pale orange to an intense almost-black coloration.
The bow drill was used to drill holes into carnelian in Mehrgarh between 4th-5th millennium BCE. Carnelian was recovered from Bronze Age Minoan layers at Knossos on Crete in a form that demonstrated its use in decorative arts; this use dates to approximately 1800 BC. Carnelian was used widely during Roman times to make engraved gems for signet or seal rings for imprinting a seal with wax on correspondence or other important documents. Hot wax does not stick to Carnelian. Sard was used for Assyrian cylinder seals, Egyptian and Phoenician scarabs, and early Greek and Etruscan gems. The Hebrew odem (translated sardius), the first stone in the High Priest''s breastplate, was a red stone, probably sard but.
Metaphysical Guide of Carnelian
Primary Chakras: Varies by type and color
Astrological sign(s): Gemini, Scorpion
Vibration: Number 7

Agate can help those who have repressed emotional issues that need to be addressed so that they can let go (release) and heal. Many feel that Agate has an anti-depressant quality. It can be helpful for those who are struggling to be genuine in their lifestyle, as it promotes an understanding of the need for deeper meaning. Agate stimulates the exploration of the unknown and furthers ones quest toward the enlightened state.
Carry Agate to promote creative ability in any project or goal. Agate promotes creativity, and encourages one to find solutions rather than focusing on negative aspects of daily challenges. Crystal healers like to use Agate for its soothing and calming qualities. Agate energizes the auric body and encourages eternal and constant love by bringing in the energies of Universal and Unconditional Love. Agate is a reminder that we are love and compassion in action.
In general, Agates carry a quiet energy that works on the subtle bodies, and are great for achieving stability and balance in many aspects of one's life. Agates tend to work behind the scenes on the cause, instead of the symptom, of an issue. Agate is believed to improve mental functions and can help where issues of clarity and stability are concerned. Agate is also helpful in overcoming negative emotions by bringing love into the chakras. Although they work very slowly and deliberately, this gentle nature of Agate helps them to have a lasting impact.
HealingCrystals.com

This is just a guide and not a substitute for any medical prescription.
Physical properties of Carnelian
Stone Type/Family: A member of the Chalcedony family
Category: Chalcedony variety
Chemical formula: Silica (silicon dioxide, SiO2)
Mohs scale hardness: 6 - 7
Color: Reddish-brown
Location: Brazil, Germany, India, Madagascar, Scotland, Slovakia, UK, USA
Rarity: Common
Fun Fact: Carnelian was used widely during Roman times to make signet or seal rings for imprinting a seal with wax on correspondence or other important documents. Hot wax does not stick to Carnelian.